Pacific Amphitheatre | Costa Mesa, California
Ramon Ayala is performing on the stage at Pacific Amphitheatre on Wednesday, July 26, 2023! He has more than 50 years of musical career in his belt and over 105 albums and 4 Grammy Awards! Ramon Ayala reshaped Norteño music genre with his unique playing style by incorporating rock and jazz and talented storytelling. He was able to win the hearts of both sides of El Rio Grande with his amazing works. But that's not all! Fidel Rueda, known for his albums "Por Siempre", "Si Tu Supieras" is also gracing the stage! His fun, playful, summery musicality will perfectly complement Ayala's energetic performance! This amazing Saturday night will be filled with raw, overflowing emotions only Latin music can give. See you in Pacific Amphitheatre , an incredible outdoor venue on July 26! Don't miss the special performance of two incredible Mexican artists, so make sure to buy your tickets now!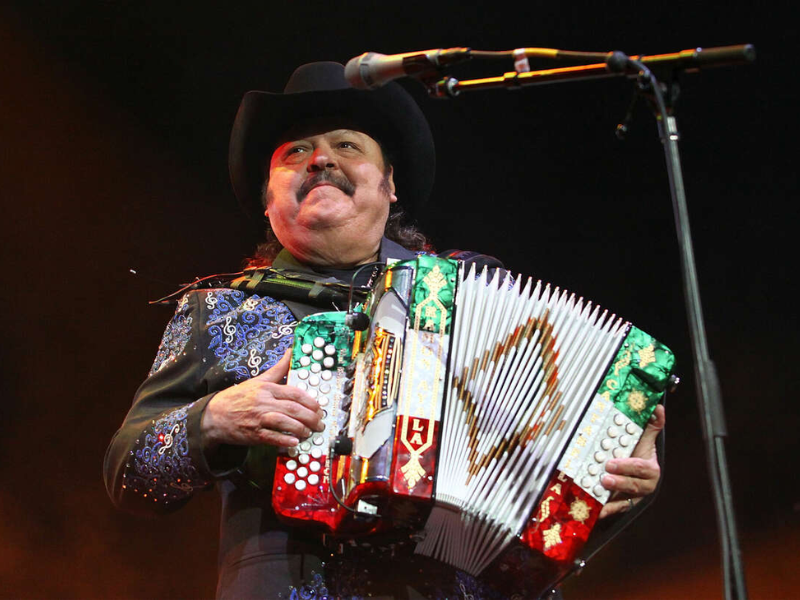 The Accordion King, Ramon Ayala is touring at Pacific Amphitheatre on July 26, 2023! With guest artist Fidel Rueda, you are set for an incredible time of Mexican music! Ramon Ayala's legendary career began at a very young age, influenced by his father, Ramon Covarrubias, also a musician. His performance in different public places helped him earn money for his modest family. His first band is Los Jilgueros de Marin, then later left to join Los Pavoreales.
When he moved to Reynosa, he met Cornelio Reyna. Together they formed Relampagos del Norte and introduced themselves to the world with their self-titled debut album that featured their hit single "Ya No Llores". He renamed the band to Los Bravos del Norte after Cornelio Reyna's passing. As a tribute to the musician's life, they recorded En Las Alas de un Ango A Cornelio Reynas.
By 1998 and the years moving forward, Los Bravos del Norte maintained busy years with numerous recordings and touring schedules, even issuing more than two records in just one year. Adding to that, many compilations of their songs also flooded the market. They have released titles that offered the classic norteño style in various ranges from love songs to rancheras, to corridos and dances. Ramon Ayala has record sales of around 750,000 units per year. It is not surprising that he has won many American and Latino Grammy's.
Carlos Fidel Rueda was also influenced at an early age. He took his spare time to play his father's accordion and when he improved, he began singing as well. His talent was noticed and people began to ask him to play for parties and events in his area. He formed the group, Los Buitres de Culiacan and they released their first album "Que Role la Bolsita." It was well-received but their follow up album "Solo Para Mi" jumpstarted their popularity in the region. Rueda's solo debut in 2007 entitled Paz en Este Amor became an instant hit and took a spot on the Billboard charts in both Hot Latin Tracks and Regional Mexican Airplay.
Join us for a fantastic experience with the Accordion King at Pacific Amphitheatre on Wednesday, July 26. With beautiful outdoor performance venue and great music, it will surely complete your concert experience. Grab your tickets now!