Pacific Amphitheatre Information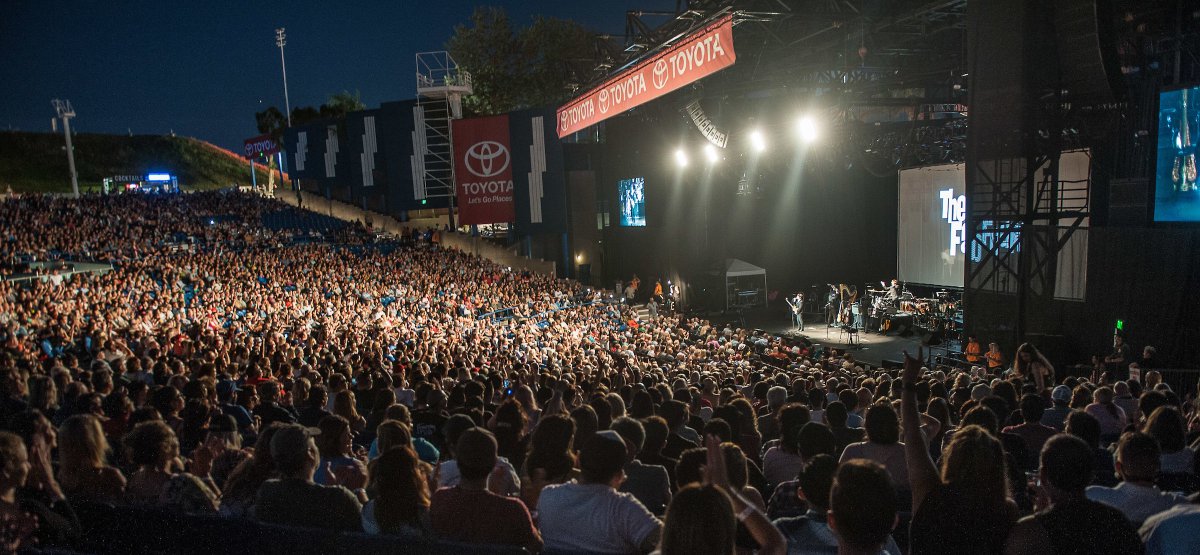 The Pacific Amphitheatre based in Costa Mesa, Orange County California, is a venue that was originally designed to add a quality stage for musical performances in the county. It was built and opened in July 1983 on the site of the model railroad building of the Orange County fairgrounds and had the honor of bringing Barry Manilow as their first performer. The amphitheater was designed with a massive 18,765 capacity space including a "lawn" area, that drew in crowds from across the country and all over the world. The Pacific Amphitheatre also drew national television attention, which led to a live nationwide broadcast by ABC Rock Radio of the Jefferson Starship on June 30, 1984. The venue was even awarded the honor of hosting Marvin Gaye's final concert appearance before his untimely death. It was clear to the entertainment industry, that the venue was the go-to place to build up and create music stars and sensations.
But trouble threatened the venue during the late 80s and early 90s due to the amphitheater's unfortunate location. It had been built surrounded by several residential developments and had received numerous noise complaints at the time. Pacific Amphitheatre was finally closed down in the early 1990s. The venue was unused for almost a decade and many fans of the venue wondered if it would ever be used again. But little did residents know that negotiations were in effect behind the scenes that led to the reopening of the venue in 2003. From that point forward, the Amphitheatre would continue to see use as part of the Orange County State Fair, when residents would be far more accepting of noise and crowds. As part of its efforts to create smaller shows with more intimate followings, the lawn area was largely left unused, reducing the effective capacity from 18,765 to a more manageable 8,500. After renovations and light improvements were added in 2015, the venue capacity was further reduced to the 8,000 seats it currently offers.
Although Pacific Amphiteatre still sees use as a wonderful location for high-quality plays and performances, it also serves the community that surrounds it by playing host to the commencement for nearby Orange Coast College. Even though the stage opens up alongside the annual county fair, it still stands as the highlight of the year for fans of music from Orange County, surrounding cities, and many fans across the world.
Order your tickets today to an upcoming Pacific Amphitheatre event.
See the below pages for further information on the The Pacific Amphitheatre:
Pacific Amphitheatre Parking:
Read about parking options and rules at the Pacific Amphitheatre.
Ticket Policies:
Read about the industry leading ticket guarantee and ticket authenticity policies when purchasing from tickets via this website.
Pacific Amphitheatre Seating Chart:
View the The Pacific Amphitheatre seating chart and read information on the various seating options.